Clubs & Organizations
Capitan Middle School provides a variety of clubs and organizations for its student body to develop leadership skills, a sense of community, and a doorway to various avenues of interest. If you would like to join one of our after-school clubs, simply contact one of its student members for details, or see each club's specific teacher sponsor.
Future Farmers America
FFA is an organization that develops the skills and leadership of the next generation of farmers and ranchers. Linked to agriculture classes, FFA seeks to enrich education with hands-on experiences that build confidence, economic understanding, interpersonal skills, volunteerism, patriotism, and citizenship. At Capitan, we offer FFA to all 8th grade students enrolled in Vocational Agriculture. Mr. Proctor is the club sponsor.
Knowledge Bowl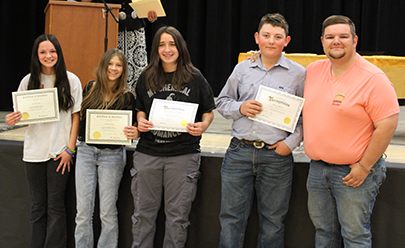 Capitan Middle School sponsors competitive academic teams in the sixth, seventh, and eighth grades. Teams travel to competitions within our district to show off their knowledge in a variety of subjects. To join, students need to show a history of:
2.75 GPA
Good attendance
No disciplinary actions
Occasionally Knowledge Bowl activities take students away from class. We expect students to make up any class assignments or tests they miss because of club participation.
National Junior Honor Society
Membership in the Capitan Middle School Honor Society is both an honor and a responsibility. Selection for membership is based on scholarship, citizenship, leadership, and character. To be eligible, students need:
a 3.5 GPA for 3 consecutive nine-week periods
Rachel's Challenge
Rachel's Challenge was created after the Columbine school shooting to reduce violence and encourage compassion and connection in schools. It is a highly-effectively violence and self-harm prevention program with the mission of creating safer, more connected schools. It was started by the family of Rachel Scott, a victim of the Columbine High School shooting, and brings healing and hope through its live and digitally delivered social-emotional and mental health content. To learn more about this program, we invite you to visit the Rachel's Challenge website.
Student Council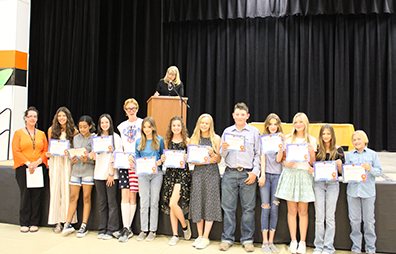 The Student Council of Capitan Middle School is the student government body of the school. Students in all grade levels may participate. In the fall of each year, students elect their student council officers (president, vice president, secretary, treasurer, and representatives). The student council is responsible for class fundraising and activities within the school.